Workshops & Tours
If the tour you are interested in is full - please
contact us
to be put on a waiting list. There is no cost or commitment to do so.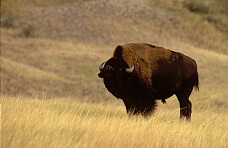 South Dakota Badlands and Black Hills Nature Photography Tour - 8 Day Tour
South Dakota Badlands and Black Hills Nature Photography Tour - 8 Day Tour
For Intermediate and Advanced Photographers
September 3 - 10, 2012
Workshop Location Description
Rod Planck has spent countless hours over his career exploring the fascinating wild country of South Dakota's Badlands and Black Hills. Join our South Dakota Badlands and Black Hills Tour and take advantage of Rod's vast knowledge of nature photography and extensive experience capturing images from this region.
The unique formations for which Badlands National Park were named are among the most striking geologic features in North America. They are also among the most varied, with sharp craggy peaks and gently sloped hills. The bold contours of this land combine with horizontal stripes of soft, warm colors to provide a mix of drama and subtlety. Sunrises and sunsets in this bizarre landscape are frequently spectacular. Buttes silhouetted against twilight skies create striking and memorable images.
The badlands are not a land of high mountains, but a stark desert of hills, canyons, and an endless variety of formations in rock and sand. Rain, wind, and frost have slowly carved steep canyons, ridges, gullies, and spires out of the land. A whitish layer near the top of many of the badlands' formations is the result of ash ejected from distant volcanoes long ago. The processes of erosion that created this landscape are still at work, slowly changing the land and exposing fossils, for which the area is justly famous.
The rugged desert country of the badlands is sparsely vegetated, yet the largest mixed grass prairie to be found anywhere in North America surrounds it. Extensive grasslands once covered much of the center of the North American continent, and the land surrounding the badlands is a remnant of this heritage.
Wind Cave National Park and Custer State Park in the Black Hills of South Dakota protect a diverse ecosystem where some of the last large remnants of short grass prairie give way to extensive Ponderosa pine forests on the higher slopes. The ever-changing scenery in both of these exciting parks offers limitless opportunities for photographing landscapes, both grand and intimate.
This region, where the ranges of eastern and western plant and animal species merge, is home to photogenic animals large and small. Prairie dogs are abundant and provide many dynamic photographic opportunities. Fascinating insects include the five-inch long lubber grasshopper among many others. We could photograph larger mammals such as bison and pronghorns near our vehicles. Park restrictions on approaching larger animals will prevent us from stalking them, but we may still be able to include them as elements in some of our photographs.
To get the most out of the tour, participants need to have built up a full photographic system and have the tools to photograph a diverse selection of subjects. A prerequisite is having a longer focal length lens (180-300 or 400mm range) with the capability to focus closely along with an appropriate flash system. If you don't already have this capability, we can help you put together a simple flash system designed for photographing free-roaming insects (not birds). After photographing landscapes, plant life or insects in the natural light of early morning, we can expect to spend some time toward the middle of some days photographing insects, using either modern TTL flash or natural light, depending on the conditions.
Excursions into this habitat will provide a varied array of interesting subjects. Looking out over sweeping landscapes of golden autumn grasses and ever-changing sky, the nature photographer will find many opportunities to create breathtaking images. While landscapes are the main focus of this workshop, you will also be able to search out close-up images of the interesting plant and insect life. Capturing the many moods and emotions evoked by this wilderness is a challenge any nature photographer would welcome.
Weather
We expect wide variations in temperature during the course of each day and over the course of the week. Some mornings we may find a coating of frost over the grasses. At the other extreme, mid-day temperatures may soar into the nineties. Rain is also a possibility this time of year.
Health Concerns
Participants must be in good health. Our daily excursions into the field will involve short hikes over uneven terrain with loose footing. Participants must prepare for temperature extremes, intense sun exposure, and the possibility of encountering prairie rattlesnakes.
Tuition / Payment
$1095 per person (includes instruction, image critique, and workshop handouts). Limit 10 Participants. To reserve a space, please send a deposit of $250. The balance of $845 is due 90 days before the workshop begins. If you cancel with less than 90 days notice, we will issue a refund only if we are able to fill your space. All cancellations incur a $50 processing fee.
Group Lodging Rates and Accommodations
For the first part of the tour, we'll be staying at the Red Rock River Resort in Hot Springs, South Dakota. The resort has guaranteed a rate of $95/night for 2 or $85/night for 1 person per room. Each room has a unique theme which you can see on their website.
For the second part of the tour we move to the Days Inn in Wall, South Dakota. This motel features queen-size beds and air-conditioned comfort. Our group-rate for lodging is approximately $72.50 per night, plus tax (king) or $84 + tax (2 queen beds) during the workshop. Reservations must be made directly with the Days Inn, contact information to be provided in your confirmation letter. We will send a detailed confirmation letter outlining check-in time, directions, suitable photographic equipment, and recommended clothing.
Vehicles
High clearance four-wheel drive vehicles are a must to reach some of our backcountry destinations. If you are willing to use your vehicle during the tour, please let us know. If we do not have enough participants bringing their own four-wheel drive vehicles, some participants will be required to subsidize the rental of additional four-wheel drive vehicles and gas during the workshop (Costs have ranged from $75 to $100 in the past.)
Registration Information
Cost: $1095 per person (includes instruction, instructional handouts, and any park entrance fees). Deposit of $250 is required with registration. Balance of $845 is required 90 days prior to the beginning of the workshop. 90-day advance notice is required for refund of deposit. If you cancel with less than 90 days notice you will receive a refund only if we are able to fill your space. All cancellations incur a $50 processing fee.
Participants are responsible for lodging, meals, transportation, and sharing the cost to rent a 4x4 vehicle (if necessary) and contributing to "fuel kitty" during the tour.
Reservations: Early reservations are recommended. By Phone: Call (906) 293-3339. Office hours are Monday through Friday, 9a.m. to 5p.m. EST. For reservations made by phone, we accept credit cards (for deposits only), or we'll hold your space for 7 days, while awaiting your check.
If you prefer to register online, you can do so using using Paypal or credit card by clicking the "Add to Cart" button below. You do not need a Paypal account to pay by credit card.
You can also register by downloading and completing a registration form (Word Doc) and mailing with payment to:
Rod Planck Photography
PO Box 100
McMillan, MI 49853

Other Workshops